Flyer
A double-sided, full colour A5 flyer advertising an event in Manchester. Easily adapted for other local New Chartist Movement events.
The first page highlights measures we can take to counter the threats of corrupt corporatist globalism and invites everyone to unite in the restoration of our ancient freedoms, democracy and prosperity.
The second page shows the New Chartists' Six Requirements for the restoration of a free and just society.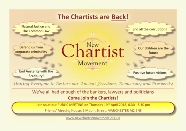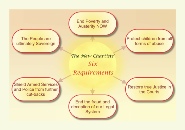 The New Chartist Movement
Business Card
A standard-sized 8.5 x 5.5 cm business card. Side 1 shows the NCM logo, contact details and a website QR code, side 2 is left blank.
When printing these yourself, you'll need to purchase some perforated cardboard sheets that yield 10 off 8.5 x 5.4 cm cards. Avery type C32011-25, C32026-25, C32016-25, C32026-10 or C32025-25 are all suitable, just choose the right type for inkjet or laser printing. Most high street stationers sell these or compatible products.