The UK Column is an independent multimedia news website

UK Column Publicity Materials
Flyer
A double sided, full colour A5 flyer suitable for easy delivery to letterboxes. Page 1 features strap lines and a word cloud with key issues on which the UK Column reports; Page 2 lists website features, provides thumbnail images of regular contributors, and gives contact details and a QR code for easy scanning of the UKC website address to a mobile device.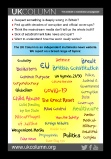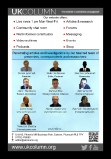 Business Card
A standard-sized 8.5 x 5.5 cm business card. Side 1 shows the postal address and contact details and a website QR code, side 2 lists website features.
When printing these yourself, you'll need to purchase some perforated cardboard sheets that yield 10 off 8.5 x 5.4 cm cards. Avery type C32011-25, C32026-25, C32016-25, C32026-10 or C32025-25 are all suitable, just choose the right type for inkjet or laser printing. Most high street stationers sell these or compatible products.
We face the challenge of awakening a critical mass of people. One way we can work towards this is by placing well researched, credible information in the hands of as many people as possible. The UK Column is an information resource par excellence, packed with well researched articles and news reports. This page provides print-ready artworks for publicity material, to enable supporters to promote the UK Column to their neighbourhood, friends and relatives. There's an A5 flyer and a business card, and we've provided various versions of each for printing small quantities on your home or office inkjet/laser printer and for ordering larger quantities from online print shops.